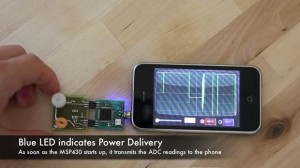 Der iPhone Connector ist relativ aufwändig durch die Miniplatine und zudem ein proprietärer Stecker, den Apple sich wieder einmal fürstlich bezahlen lässt.
Ein paar Tüftlern der University of Michigan gelang es aber nun den analogen Köpfhöreranschluss mit Mikro für preiswerte externe Peripherie einzusetzen. Eine bidirektionale Datenübertragung zu einer speziellen App wurde mit 8,8 kbaud realisiert. Das reicht allemal für Sensoren (Temperatur, Feuchtigkeit, Druck, pH, usw.), die an allen möglichen Stellen Verwendung finden.
Es bleibt zu hoffen, dass sich hierzulande z.B. Kosmos Baukästen o.ä. mit dem Projekt beschäftigen, um es breitenwirksam einzusetzen. Das iPhone bzw. der iPod Touch könnte damit zur universellen Steuerzentrale für z.B. Laborgeräte mutieren. Evtl. auch nur für den heimischen Keller. Spannend ist das aber auf jeden Fall.
Hijacking Power and Bandwidth from the Mobile Phone's Audio Interface – Integrated Prototype from Thomas Schmid on Vimeo.
Related posts:
Parrot RKi8400 – ein Autoradio deluxe mit iPhone Connector Parrot ist ja schon seit langem durch kleine und leistungsfähige...
PowerDuo – langer Atem für iPhones & iPods GRIFFIN hat den langen Atem für's iPhone und die iPod...
und nun doch? – Adobe bringt Flash App für iPhones Ja, leider nur eine App, die es erlauben wird, Flash...